Trip of a life time
Geoff was the bomb!!! He had the perfect personality for this trip and the kids loved him! Had so much fun and was impressed with everything we got to see and do!!!
Very Memorable!!
This was the best 9 days of my life. Geoff was an awesome tour guide. Very knowledgeable and funny. He made our trip excellent. Lots of laughs on the bus. Learned alot about our capitol and historic events in Gettysberg, Concord, and Lexington. The cities were beautiful, even though Boston was 95 degrees.
Amish land was amazing
Zero down time, which was a good thing. We were doing things from sunrise to way after sunset.
Guide was incredible - a wealth of information and knowledge as well including everyone in all activities of the trip.
Unfulfilling
This trip was a wonderful experience for me and a plethora of other students, but it was stressful and not planned well
It was stressful because I, along with others, were worried that we wouldn't be able to do everything that we paid for. While I understand that traffic is usually unpredicatable, throughout the whole trip it seemed as though it was not accounted for. This caused for our activities to be cut short, for less enjoyment time, and for it to seem as though we were stationed more on wheels than on land.
I claim this trip was not planned out well because for some events, we would have more time than we needed, and another event we would be cut short- whether that be drastically short, or just by a half-hour or so. I understand the desire to go to everything that could be seen, but that caused it to be highly unenjoyable for all the participants. Perhaps the trip can modified to where for certain events- like a stand alone memorial such as bunker hill- have their time shortened and other events- such as the 9/11 memorial- have their time elongated. For another suggestion, the destinations can be cut. Have a survey perhaps with the chaperones or the students and only go to the most desired places and then sprinkle the other places in IF there is time. This would allow to trip to be more peaceful and not feel as though you are rushed with ever action you take. I would also like to suggest that you move the hotels closer to the main destination. While this will cost more, it will cut the driving time and will allow for longer periods of time to be allotted for more desirable tasks.
Too much, too crammed
Obviously seeing the view of New York City from the top of the Empire State Building is incredible. Many of the places we visited were top-notch sights to see.

But I felt fortunate to have been to the Empire State Building a couple of times before.

You see, we had only 30 minutes allotted at the building. To get up to the top, spend time sight-seeing, shop in the store (which wasn't mentioned, probably because we didn't have time), use the restroom (which I had to repeatedly ask our tour director to mention because we were always rushing at the expense of human nature). It wasn't enough time.

Our bus had issues multiple times, from the get-go, and so those delays had ripple effects throughout the entire trip.

Even still, I have a hard time believing that the sights and events planned could have fit into the itinerary without such delays.

It seems that this tour sacrificed quality for quantity.

The tour director also rarely waited -- again, time! -- for our entire group to regroup at each location. There was rarely a cohesive group message to all students about meeting time and place, and chaperones had to resort to texting this information to students -- oftentimes in buildings and memorials where cell service was limited.

Also: EF should strongly discourage red-eye flights across the country with no rest or hotel stop for travelers before a full day of walking tours.
Incredible experience-just want to tweak a little!
The experience was incredible! There is no way that we would have ever seen as much as we did in that amount of time for that cost - ever! It was very educational and smooth! The only thing I would change is an option to upgrade certain experiences - like the Broadway show. We would have enjoyed it so much more had we been able to see it better and I would have paid more for that. Our tour guide was an amazing leader and made everything run so well for us. The safety is unparalleled and I wasn't worried about our students or chaperones ever. I would definitely do this trip again!
so amazing
My tour was so amazing!! We got to see a little bit of everything but got to learn a lot about everything! My tour guide was one of the best! I can't imagine having any one else. He kept us going. By the end of it we walked 65 miles: that's in ten days!!! It was a blessing and if someone came to me asking if they should go, I'd start jumping up and down saying yes and sign up with them!!!
Don't miss out!
I had high expectations for this trip, and they were far surpassed! I went on the East Coast trip and loved the blend of walking tours, museums, unique resteraunts, and free time. We had a lot of flexibility with the schedule so we snuck in a lot of really cool stops (like running up the Rocky steps in PN!) I went with a small group of 16 kids from my APUSH class and although none of us really knew eachother to begin with, we were one big (crazy and sleep deprived) family by the end. Highly reccomend it, don't miss out!
Can't wait to go back!
We had a BLAST! We saw amazing sites and traveled the cities with great hop on-hop off guides. Although the days are jam packed and fast paced I was totally satisfied. I really looking forward to our next trip.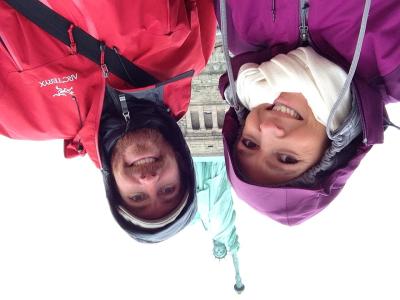 Great Trip!!!!!!!!!!
This trip was amazing! Filled with lots of historical knowledge, beautiful sights, and awesome guides. Gwenn was an awesome guide and Ellgee an awesome driver and funny guy. Would definitely want to go again!