Inspire a new
perspective
on the world
Inspire a new perspective on the world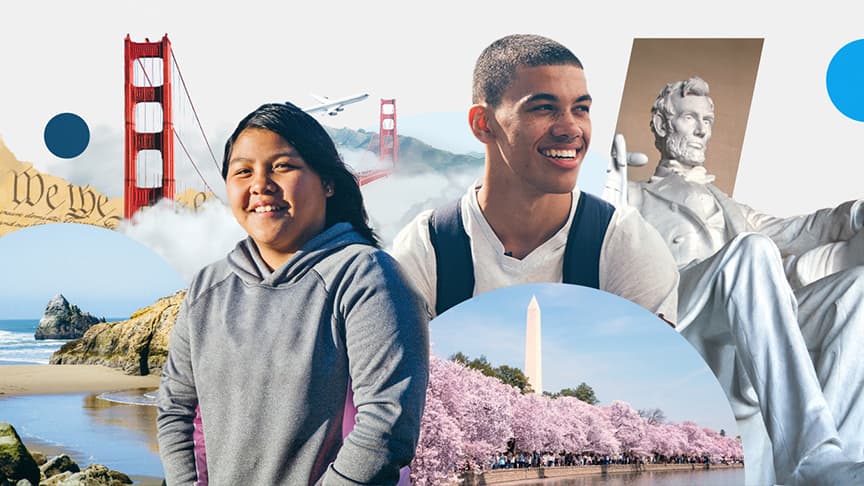 Experience the modern approach to educational travel
With EF Explore America, students are bound for an incredible experience that will exceed their (and your) expectations. That's because our compelling itineraries are rooted in human connection—and crafted specifically for you.
Our people are your people
/ / / / / /
Joining the EF family means you'll have the support of our community of educators, tour architects, operations wizards, and ever-curious explorers. We've experienced the transformative power of travel firsthand—and we can't wait to explore the opportunities that are out there for you and your students.
What's important to you is important to us
/ / / / / /
We believe travel is for everyone. When students go beyond the classroom it brings education to life, unlocks new potential, and opens a world of possibilities. That's why we prioritize safety, value, and the kind of learning that prepares students for the future and their futures.
---
Lowest prices →
---
Educational impact →
---
Tour reviews
Live, unedited & independent traveler reviews
For over 55 years, we've dedicated ourselves to one global mission: Opening the World Through Education.
Feel the impact of travel
Travel can be a big adventure, like exploring someplace new for the first time. But it's also about the smaller moments on the road. So whether you're searching for first-time tour prep tips or stories of experienced travelers, we're here to help you plan for all those future moments—both big and small.

Why this teacher loves travel
Edith talks about watching her students grow up and experiencing history on her D.C. to NYC tour.

6 minute read

EF One on One
These educator videos feature inspiring chats between new and experienced Group Leaders.

2–3 minute watch

Tips for money management on tour
Check out our top tips for managing money on tour (hint: one includes the Till Financial app).

4 minute read
Hundreds of destinations. Endless possibilities.