Big Apple Review
While New York was lovely and my students had a ball, there just wasn't enogh time to fully see all the sites on the itinerary. An hour and a half at the MET is no where near enough time. An hour and twenty minutes on Ellis Island when you have to wait in line for lunch is not enough time. One thing that was truly upsetting was not being able to.sit with my students for their first Broadway experience. I had a group if 8 total; 6 students and 2 adults. I sat by myself, 2 of my.girls were by themselves and the rest of the group sat together on the other side of the theatre.
There is just too much packed into 5 days.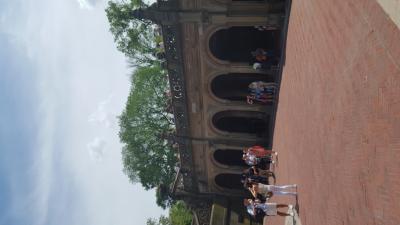 Disappointing experience
Overall, I was disappointed in the trip. The expectations were not met. We repeatedly heard about the NYC traffic causing us to be late or miss certain itinerary items. For an international travel company that offers numerous NYC tours, the traffic situation should be factored into the planning. We did not get to "experience" New York culture because we were too busy "running" through the streets. We did not even have time to take pictures because we were being hurried along so much by our tour director.
Had a Blast!
Extremely busy non-stop and saw everything and more than imagined. I wasn't sure I would like New York. Turns out I loved it. Tour guide was the best!
disappointed
I was not aware that the tour involved the tour guide taking you to a place and letting your students explore on their own without any guidance or information about the site. While walking through crowded NYC, the tour guide didn't stop to make sure everyone was keeping up with her and often left students stranded on the other side of the street due to being caught at a traffic light. The itinerary was not followed and we missed several things we wanted to visit.
Great trip!
I had an amazing time with EF! Our tour guide knew what he was talking about and took us places that we wanted to see
Mixed emotions
Our tour guide was very accommodating. However, we had several hiccups. Our bus windows were broken out and the bus had broken glass hanging from the windows as well as on the seats. Our group and another had to ride on the bus for over an hour to get to the hotel! Our tour guide left us standing on the sidewalk outside of a check cashing store while he waited for over an hour. I took my group and another to the Brooklyn Bridge (another hour) before he joined us. I was told several times stop here, stop here....and he would catch up. He seemed unorganized especially when it came to money and tickets. I was given a theatre ticket three rows up and in another section from the rest of my group. I was the only leader that was not with their group. Our tour guide sat with my group and "his friend". Now, he was very accommodating, he took us to places I have never been and may not have seen otherwise.
Great Experience
A very educational trip to NYC & New Jersey area ! I learned a lot, saw a lot and truly enjoyed it !
Unorganized
I enjoyed the stuff we got to do in New York but our tour guide was very unorganized. I wish the trip was more detailed on time too. I have been on other school trips that were very organized.
Great
Janet made our trip fantastic. Only problem was how far away the hotel was.