good
LIKED THE TOUR
Lovely experience!
This experience was amazing! I had so much fun! From the activities to the bus rides! Every bit of this trip made me smile!
I am usually a person who can overlook many things, but the only thing I would suggest is NOT mixing age groups!
The other HS group that was with us was very fun. But there was also a middle school group that restricted us from having a lot more fun than we did, although we did have a really fun time, I imagine it could have been more fun!
They wouldn't let us listen to most music, and we missed a wonderful opportunity to go snorkeling because the young ones weren't allowed to. -.- not very happy about that!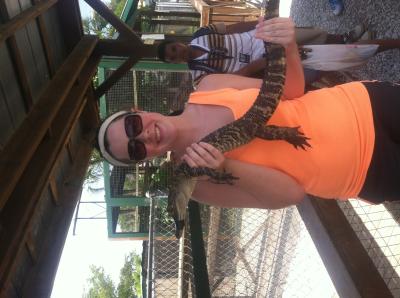 Roadside Zoo? Really?
As an educator who focuses on animal health and conservation education, I feel that I would be remiss to not address one unfortunate aspect of the experience. The airboat ride for which you contracted offered little in the way of higher order thinking or genuine learning. It would not itself be damaging to the student experience, had it not been operated by a private company which also ran a decrepit and irresponsible road side zoo. To complicate the matter, the employees of this private facility wore imitation nation park service uniforms, leading the students to believe that the operation was maintained by the national park. The non-native species they displayed were in some cases irrelevant to the biome being investigated, and were kept in conditions unacceptable to even a novice animal health technician. I debriefed the students of my Veterinary Science Academy for some time, in order to add clarification to what they had experienced. If you are serious about being a travel agency which focuses on education, I urge you to avoid roadside zoos and similar establishments, and maintain relationships with quality facilities like the aquaria we visited.
Bazinga!
This experience was great! It was really fun go seining, tour aquariums and to see dolphins swimming along our boat, unfortunately we didn't see a manatee... Overall I really liked it. Everything was taken care of and the environment was really relaxed. Improvements? I wish it could have included a little more educational experiences.
Great Experience!
The overall experience was great. I had a lot of fun while still learning a lot! However, I was disappointed by the way the activities were organized. For example, we did not get the chance to shower for two days because we spent our last night at the Florida Aquarium for the sleepover. I would have much rather had the sleepover in the middle of the trip,so that we could go to a hotel the next day and still feel good before we left for home. All in all, the experience was great, though!