LOVE LOVE LOVE
I absolutely loved the tour. I loved the city, I loved the sights. I loved everything my group was a part of. It was incredible. I've always wanted to go to NYC and the fact that I was there with friends and seeing sights I probably wouldn't see on my own was just amazing.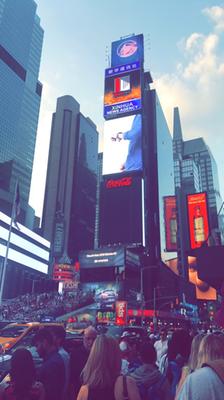 Fun but
Overall the trip was great especially the activities we got to do! Lots of sight seeing and plenty of information to take it of the beautiful city but towards the end I was a little let down because we were literally only given 7 minutes to look at Little Italy and such. That day just felt unplanned and rushed, wish I would've actually got to look at those places rather than just drive by them.
Pretty fun
I saw a lot of cool things and I would definitely like to go back. EF tours is very organized and they had fun things planned. My biggest complaint is the very little free time we got. Only got about an hour where ever we went to eat and look around. Definitely wanted to be able to explore way more!! Especially in places like Time Square.
Broadway Dreams Fulfilled!
Our middle schoolers had the best time on our Broadway and the Arts tour. Our tour guide, Janet, went above and beyond to make it a special tour for us. Our students particularly enjoyed the Broadway workshop and meeting a Broadway professional! Leonard, who led our workshop, helped the kids to see themselves differently and to be willing to take risks in the improv exercise. The shows that we saw were a perfect combination of old and new. We loved touring NYC as well. It was an amazing week and we will be back!
Such Fun!
Everything was so organized, but not so structured we didn't feel like we had a say in our New York experience. Our tour guide had special insight to local highlights that we would never have found on our own. So excited for our next trip!
SO COOL
Such an amazing experience. I can't wait to come back to New York some day.
Trip
It was ok I got a bad sunburn for being in the sun for 5 hours! There was also limited water on the trip. But everyone and everything was amazing.
Expected better
I would expected better care from your part when problems rise!
It was grand... but
For the future, I would suggest not putting middle schoolers and high schoolers on the same bus. Their differing maturity levels tend to clash. Other than that. It was amazing. Everything I hoped for and more.
Fantastic Experience in More Than the Theatre
This tour was a phenomenal experience. My students and I had not only an eye-opening encounter with not just Broadway and the arts, but of the world. We especially enjoyed the Broadway shows and workshop along with the breadth of exploration we were able to do in some of NYC's more famous neighborhoods. I could not recommend this tour highly enough.