—
Words by Hannah Sheinberg
Photos by Christian Gilbert


A modern portrait of America's capital through its murals
From monochrome monuments to stone-faced founding fathers, Washington, D.C. is known for housing history. But that doesn't mean the District is stuck in the past. Along the city's streets, murals illustrate contemporary capital culture in a kaleidoscopic color palette. And while monuments to Washington, Lincoln, and Jefferson pay tribute to the nation's history, these brick and concrete canvases show history in the making.
These murals are only temporary tributes, fated to fade or be bulldozed. And that's okay. Because the narrative of this city is constantly changing.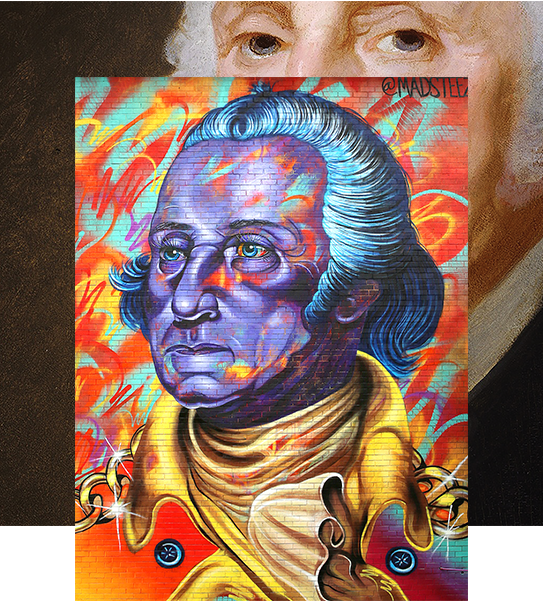 Behind: George Washington
Gilbert Stuart
This oil painting of the first president probably looks familiar. That's because you've seen a near-identical portrait by the artist in your wallet. See it in person at D.C's National Gallery of Art.
—
Above: George Washington
Madsteeze, 2017
The OG commander-in-chief got his groove back in this funky rendition by Madsteez. The mural was knocked down less than a year after it was made, but the purple president lives on in our hearts.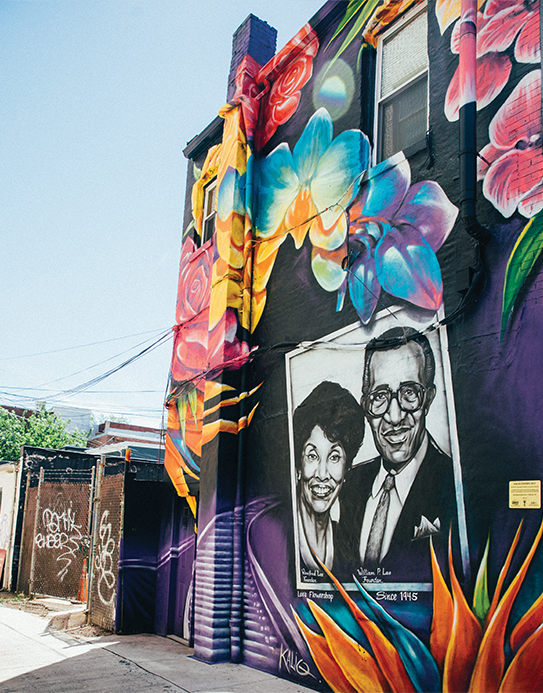 Lee's Legacy
Kaliq Crosby, 2017
Winnifred and William Lee's eponymous flower shop has blossomed (sorry, we had to) on U Street since 1945. Crosby's airbrushed work pays tribute to the enduring small business and its entrepreneurs. The piece is 3.4 miles from where Martin Luther King Jr. gave his "I Have a Dream" speech.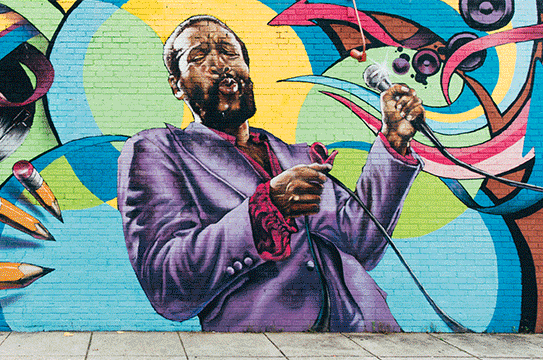 Marvin Gaye
Aniekan Udofia, 2014
In celebration of hometown hero Marvin Gaye, this larger-than-life piece is a three-minute walk from The Howard Theatre, where a young Gaye saw jazz legends perform.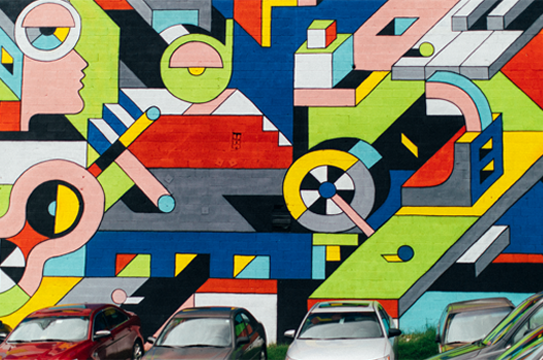 Discovery
Johan Moorman, 2018
Dutch muralist Johan Moorman has his artistic technique down to a science, incorporating STEM principles and neo-plasticism influences in his work. You'll find this wall 2.7 miles from the Washington Monument.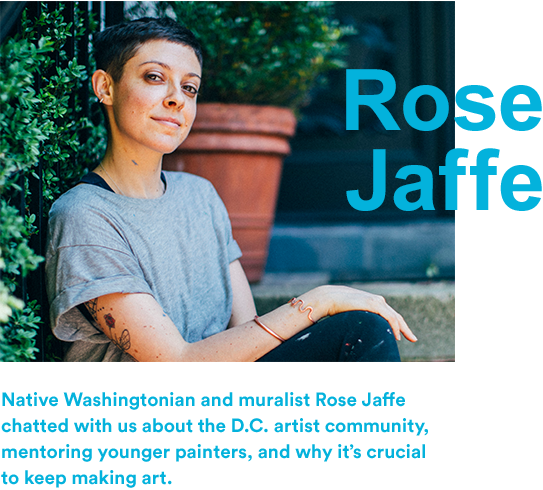 There's so many things I love about D.C. I moved back here after college and I really didn't think I would stick around, but then I found the art scene here to be welcoming, open, accessible, and supportive. D.C. is such an interesting place because it's so expensive to live here, but there's also a lot of money for artists if they stick around.
So if you can make it work here, it's actually a great place for artists. And the city's really loving the arts right now, so there are a lot of grants and funding for artists. D.C. is like a family member. You love them, you hate them, you need to get away sometimes, but then you always come back.


I actually taught high school for three years and also taught in this amazing after-school program called Words Beats & Life. There's one student in particular that I really connected with, and I still work with her. I've had a fair amount of young people reach out to me, whether it's interviewing me or coming to my studio and chatting about how I make things work.
I've been back to University of Michigan [her alma mater] a few times doing workshops about being a working artist. I've been full-time for about three years and out of school for six now, so it's cool to be in a space where I can offer guidance to younger artists. It's kind of like returning the favor, and continuing the awesome energy that the artists have here in the city.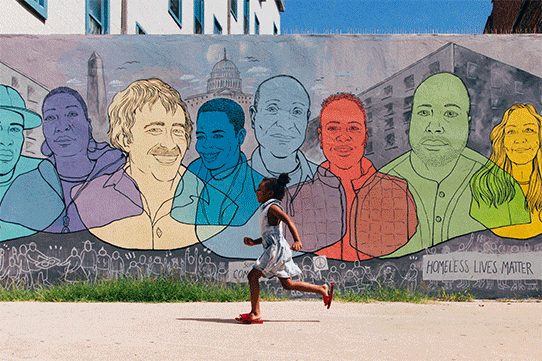 Center for Creative Nonviolence Homeless Shelter
Rose Jaffe, 2016


Just get rolls of butcher paper and roll them out to practice working large-scale. Having constant studio practice is also critical—I'm in my studio as much as I can be. But I think the best thing to do is to keep making art. I'm drawing every day, I paint a ton, and I create a lot.

Want more from Rose?
Read more about her favorite projects and artist collabs on
our blog
.